Travel Info
Located roughly 60 km (35 mi) north of Catania, Taormina is one of the most popular touristic destinations in Italy. Taormina is settled on a hill of the so-called Monte Tauro, from which it dominates two stunning bays. Visitors arriving in Taormina can experience a very lively little town, where history and culture are preserved in a charming and relaxed atmosphere.
Transportation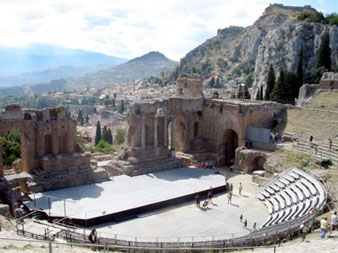 The easiest way to reach Taormina is to fly into Catania International Airport (Italy's third-largest airport by domestic air travel volume), and then take a 90-minute bus to Taormina. On weekdays, buses run in the daytime (6:45am to 7:45pm) every other hour; weekend schedules skip mid day trips. Tickets cost around EUR 7 (one way), and can be bought directly on the bus. Once in Taormina, the bus stops 400 mt (1/4 mi) away from the city center (Porta Messina). If you are staying at the conference venue, have a look at this map for walking directions (10–15 mins).

Some hotels in Taormina provide (for a fee) a shuttle service from and to the airport to their guests. You might also reach Taormina from the airport by car in an hour or so. Renting a car, however, is discouraged, as Taormina has severe traffic limitations—only residents are allowed to drive cars in the city center, and parking is limited. Should you nevertheless decide to rent a car, notify the front desk at the conference venue and they will direct you to a nearby unsecured parking lot. Please be advised that space is limited, and will be assigned on a first-come, first-served basis.

The cost of a taxi ride varies, with EUR 90 being a rough estimate. Use this spreadsheet to coodinate with other participants if you wish to share a taxi from the airport to the hotel.

Cheaper transportation might be possible by sharing car service. The SAT Finy group arranges transfer service between Catania Airport and Taormina.
Visa Information
You need a valid passport to enter Italy. It is highly recommended that passports have at least six months validity remaining after your intended date of departure from your travel destination. A visa is not required for citizens of the EU, the USA, Canada, Australia, Japan, and several other nationalities: you may check visa requirements for your nationality here. Visitors who need a visa should request a standard Schengen visa: for more information, see here and here.