Travel information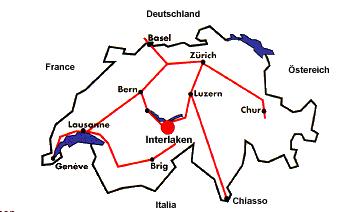 Interlaken lies in the heart of Switzerland and is easily reachable:
by plane via Zurich International airport, then with an hourly train connection from Zurich airport to Interlaken (duration 2h40min);
[ Quick time table: direct trains leave Zurich airport at 08:40, 09:40, 10:40, 11:40, 12:40, 13:40, 16:40, 18:40. For more info, see online timetable. ]
by train with good connections to the European train system (including direct ICE high-speed train from Frankfurt/Germany);
by car on highways from all parts of Switzerland.
See the web site of Interlaken Tourism for detailed travel information and more.
Swiss International Air Lines is the official carrier for Eurocrypt 2004 and is offering special congress fares to all participants. More information ...
You will need a valid passport to enter Switzerland. A Visa is not required for citizen of most nationalities (in particular EU, the U.S.A, and Canada). For more information see here.
How to get around in Interlaken
Interlaken is small enough that everything can be reached easily by walking. The conference center Casino Kursaal and most hotels are located between the two train stations Interlaken West and Interlaken Ost.

A map of Interlaken and more information is provided by Interlaken Tourism.