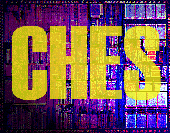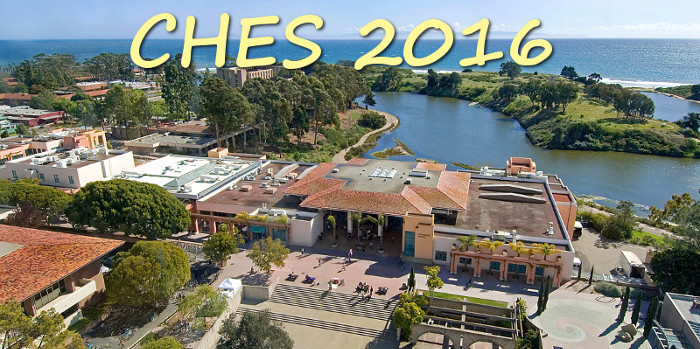 Welcome
Welcome to the home page of the 18th Conference on Cryptographic Hardware and Embedded Systems 2016. CHES 2016 will take place Santa Barbara, CA, USA, from Wednesday, August 17th - Friday, August 19th, 2016.
The annual CHES conference highlights new results in the design and analysis of cryptographic hardware and software implementations. CHES provides a valuable connection between the research and cryptographic engineering communities and attracts participants from industry, academia, and government organizations.
Oct 9, 2016:
Presentation Videos are now available.
Sep 9, 2016:
Presentation Slides are now accessible through links in the Program.
Aug 16, 2016:
Submission for the Rump Session is now open.
Aug 14, 2016:
CHES proceedings (LNCS 9813) are now available for download.
Jul 14, 2016:
Poster Submission is still open until July 31.
Jun 26, 2016:
The Conference Program is now available.
Jun 23, 2016:
Registration is now open. Early registration ends on July 31, 2016.
Jun 16, 2016:
Stipends for students: Please send your application email to the General Chairs.
Jun 13, 2016:
The list of Accepted Papers is now online.
Jun 3, 2016:
Interested in supporting CHES? See our Call for Sponsors.
Jun 2, 2016:
Call for Posters and Tutorials is now available.
May 23, 2016:
The CHES Challenge will start on June 1. Test submissions are already possible.
Mar 5, 2016:
Paper Submission is now closed. Papers are under review.
Feb 19, 2016:
Paper Submission is now open.
Feb 15, 2016:
Call for Papers has been updated. Please note important changes.
Jan 26, 2016:

Interested in organizing a organizing this years public CHES Challenge?
Check the Call for Challenges Proposals.
Dec 23, 2015:
Call for Papers is available.
Nov 15, 2015:
Web site is up.
| | |
| --- | --- |
| Submission deadline: | March 4, 2016, 23:59PST |
| Referee comments to authors: | April 22nd, 2016 |
| Author response to comments: | April 28th, 2016 |
| Acceptance notification: | May 16th, 2016 |
| Final version due: | June 6th, 2016 |
| Workshop presentations: | August 17th - 19th, 2016 |
| Çetin Kaya Koç | Erkay Savaş |
| --- | --- |
| (General Co-Chair) | (General Co-Chair) |
| University of California Santa Barbara (USA) | Sabanci University (Turkey) |
| Email: koc@cs.ucsb.edu | Email: erkays@sabanciuniv.edu |