Conference Venue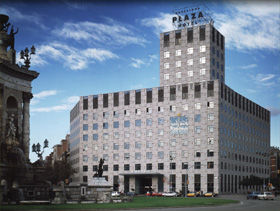 The conference will be held in the Catalonia Barcelona Plaza Hotel (****), located in the very centric Plaça Espanya area, in front of the Barcelona Trade Fair and the Convention Hall. (See interactive map or google map.)
Click here for travel information.
Plaça Espanya is at walking distance from downtown and there are several bus stops (lines 9, 13, 23, 27, 30, 37, 46, 50, 56, 57, 61, 65, 79, 91, 109, 141, 153, 157, 165 and 193) and the Plaça Espanya underground station (lines L1 and L3). See a map of public transportation at Plaça Espanya.
The hotel is very close to Palau Nacional and the Magic Fountain. The Mies Van de Rohe Pavilion is just at a 10 minute walk. And not too far from the hotel there is Poble Espanyol, a small village that contains reproductions of old buildings in different Spanish traditional architecture styles.
You can get more information on what to do and what to visit in Barcelona by following the link below.

Barcelona tourist information