Much of the information on this web page was provided courtesy of Michael Ley and the
DBLP Project
---
ASIACRYPT 2004: Jeju Island, Korea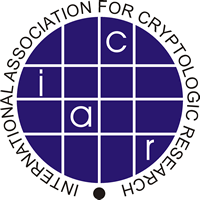 ---
Pil Joong Lee
(Ed.): Advances in Cryptology - ASIACRYPT 2004, 10th International Conference on the Theory and Application of Cryptology and Information Security, Jeju Island, Korea, December 5-9, 2004, Proceedings.
Lecture Notes in Computer Science
3329 Springer 2004, ISBN 3-540-23975-8
BibTeX
Preface by Pil Joong Lee
Sponsored by
International Association for Cryptologic Research (IACR)
in cooperation with
Korean Institute of Information Security and Cryptology (KIISC)
International Research center for Information Security (IRIS) at Information and Communications University (ICU)
financially supported by
Ministry of Information and Communication (MIC) in Korea.
General Chair
Kwangjo Kim, Information & Communications University, Korea
Program Chair
Pil Joong Lee, Pohang University of Science & Technology, Korea
On leave at KT Research Center, Korea
Program Committee

| | | |
| --- | --- | --- |
| Jee Hea An | ..... | SoftMax, USA |
| Michael Backes | ..... | IBM Zurich Research Lab., Switzerland |
| Feng Bao | ..... | Institute for Infocomm Research, Singapore |
| Colin Boyd | ..... | Queensland University of Tech., Australia |
| Liqun Chen | ..... | Hewlett-Packard Labs, UK |
| Don Coppersmith | ..... | IBM T.J. Watson Research Center, USA |
| Marc Joye | ..... | Gemplus, France |
| Jonathan Katz | ..... | University of Maryland, USA |
| Yongdae Kim | ..... | University of Minnesota, USA |
| Dong Hoon Lee | ..... | Korea University, Korea |
| Jaeil Lee | ..... | KISA, Korea |
| Arjen K. Lenstra | ..... | Lucent Technologies, USA, |
| | ..... | & TU Eindhoven, The Netherlands |
| Atsuko Miyaji | ..... | JAIST, Japan |
| Jesper Buus Nielsen | ..... | ETH Zurich, Switzerland |
| Choonsik Park | ..... | NSRI, Korea |
| Dingyi Pei | ..... | Chinese Academy of Sciences, China |
| Erez Petrank | ..... | Technion, Israel |
| David Pointcheval | ..... | CNRS-ENS, Paris, France |
| Bart Preneel | ..... | Katholieke Universiteit Leuven, Belgium |
| Vincent Rijmen | ..... | Graz University of Technology, Austria |
| Bimal Roy | ..... | Indian Statistical Institute, India |
| Rei Safavi-Naini | ..... | University of Wollongong, Australia |
| Kazue Sako | ..... | NEC Corporation, Japan |
| Kouichi Sakurai | ..... | Kyushu University, Japan |
| Nigel Smart | ..... | University of Bristol, UK |
| Serge Vaudenay | ..... | EPFL, Switzerland |
| Sung-Ming Yen | ..... | National Central University, Taiwan |
| Yiqun Lisa Yin | ..... | Princeton University, USA |
| Moti Yung | ..... | Columbia University, USA |
| Yuliang Zheng | ..... | University of North Carolina at Charlotte, USA |
Organizing Committee

| | | |
| --- | --- | --- |
| Khi-Jung Ahn | ..... | Cheju National University, Korea |
| Jae Choon Cha | ..... | ICU, Korea |
| Byoungcheon Lee | ..... | Joongbu University, Korea |
| Im-Yeong Lee | ..... | Soonchunhyang University, Korea |
| Kyung-Hyune Rhee | ..... | Pukyong National University. Korea |
| Dae-Hyun Ryu | ..... | Hansei University, Korea |
---
Block Ciphers
Public Key Encryption
Invited Talk I
Number Theory and Algebra
Secure Computation
Hash Functions
Key Management
Identification
XL-Algorithms
Digital Signatures
Public Key Cryptanalysis
Invited Talk II
Symmetric Key Cryptanalysis
Protocols
---
---