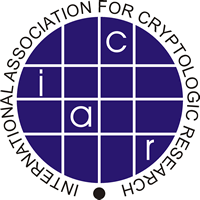 IACR Newsletter
The newsletter of the
International Association for Cryptologic Research
.
Vol. 22, No. 2, Winter 2005.
Contents
2005 elections
The 2005 election is now complete. Five candidates stood for the three open positions of Director. The three candidates with the highest number of votes were elected. These new directors whose terms will expire on 31 December 2008 are:

Yvo Desmedt
Stuart Haber
Antoine Joux

The Revision of the bylaws also passed with 170 in favor, 45 against.

More information on this year's election is available here.
Visas for IACR events
The issue of Visas to attend IACR events has become a significant issue. Both the next EUROCRYPT in St. Petersburg, Russia and CRYPTO in Santa Barbara, CA, USA require Visas for many to attend.

For information regarding obtaining a Russian visa, there are web sites for the Russian Consulates in UK and France. Note that the form for US and non-US citizens is different.

Information on the US visas can be found here, The time to obtain a US visa is variable, and may involve a visit to the Consulate for an interview. This has taken over 3 months for some individuals in the past. It is advisable to submit Visa applications as soon as possible to avoid last minute problems.
Nominations for IACR Fellow
We hope that you will consider devoting some of your time and effort to nominating or endorsing an IACR-Fellow candidate. IACR members can nominate or endorse other IACR members for this prestigious position. Nominations and endorsements are due on December 31, 2005. More information can be found here.
Calendar of IACR events
Asiacrypt 2005, (mirror), December 4-8, 2005, Taj Coromandel, Chennai, India.
Eurocrypt 2006, May 28-June 1, St. Petersburg, Russia.
Crypto 2006, August 20-24, 2006, Santa Barbara, California, USA
The third Theory of Cryptography Conference (TCC'06), March 5-7, New York, USA.
International Workshop on Practice and Theory in Public Key Cryptography (PKC 2006), April 24-26, New York City, USA.
Fast Software Encryption (FSE 2006), March 15-17, 2006, Graz, Austria
Events In Cooperation with IACR
Honoring Prof. Dr. Thomas Beth
Our Association has lost a great character and a great pioneer. The IACR president has written a brief note honoring the late Prof. Dr. Thomas Beth.
Announcements
Journal of Cryptology
September 2005 issue of the Journal of Cryptology is available to IACR members. The user-id and password for IACR members can be retrieved here.
RSS News feed available for the IACR ePrint archive
Following a suggestion by several people, we are now providing RSS feeds of the latest papers submitted to the IACR ePrint archive. This information is updated once an hour. More information on available feeds and formats is available here.
Top downloads from the Cryptology ePrint Archive
The top six downloads from the ePrint archive for the period May 18th through November 22, 2005 are listed here. The first two have been noted in this newsletter before and still remain heavily accessed.
Open positions in Cryptology
Current announcements on the IACR Website for Open Positions in Cryptology.

University of Waterloo
University College London
Indiana University
Katholieke Universiteit Leuven
Stevens Institute of Technology
Université catholique de Louvain
---
You may opt out of the newsletter either by editing your contact information and preferences here or by sending an email to the newsletter editor at newsletter (at) iacr.org.
Contributions, announcements, book announcements or reviews, calls for papers ... are most welcome! Please include a URL and/or e-mail addresses for any item submitted (if possible). For things that are not on the Web, please submit a one-page ASCII version. Send your contributions to newsletter (at) iacr.org.