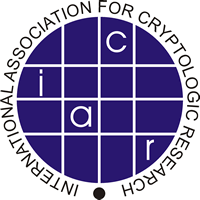 ASIACRYPT 2014
Announcements
---
ASIACRYPT 2014 is the 20th Annual International Conference on the Theory and Application of Cryptology and Information Security. It will be held in Kaoshiung, Taiwan (R.O.C.) from Dec 7 to 11, 2014. The academic program covers all aspects of cryptology. The conference is sponsored by the International Association for Cryptologic Research (IACR).
This conference is jointly organized by National Science Council, Republic of China (Taiwan), Ministry of Education, Republic of China (Taiwan), Ministry of Economic Affairs, Republic of China (Taiwan), Academia Sinica, Intel-NTU Connected Context Computing Center and National Sun Yat-sen University.
Electronic versions of the proceedings, published by Springer, will be provided to all registered attendees at the conference. In addition, paper proceedings can be purchased through online registration.
Important Dates
---
Submission deadline: May 27, 2014, 2:00 a.m. UTC.
Notification of decision: August 22, 2014.
Camera-ready version due: September 15, 2014.
Early registration:
Conference dates: December 7 to 11, 2014.
Updates
---
Oct. 20, 2014 Registration OPEN NOW!!
Oct. 17, 2014 : Workshop – State of the Art Cryptography is up-to-date.
Oct. 06, 2014: Program and invited Speaker page is updated.
May 28, 2014: Submission server is closed. We received 255 submissions.
April 24, 2014: Submission server is operational.