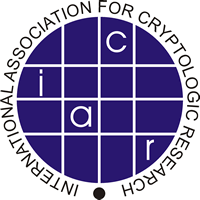 Travel
Conference Venue: Ambassador Hotel Kaohsiung
202 Minsheng 2nd Road, Qianjin District, 80144 Kaohsiung, Taiwan
The Geography of Kaohsiung
Kaohsiung is located in southern Taiwan. The development of Kaohsiung harbor makes it an important trade and commerce stop along the Northeast Asia / South Pacific passageway. This has quickly propelled the development of this international city.
Kaohsiung has an international airport with direct flights from many cities in Asian, Europe, and American. Other cities without direct flight to Kaohsiung can first flight to Taoyuan International Airport, and then transfer to Kaohsiung by high speed train.
General Information
Mandarin is the official language. English is spoken quite extensively.
Taiwan is eight hours ahead of Greenwich Mean Time. There is no daylight-saving so this time difference remains year-round.
In December, the temperature is usually around 20 degree (centigrade) in Kaohsiung. However, it may sometimes falls below 10. Delegates are recommended to bring coat and scarf. For more weather information, please visit Central Weather Bureau.
The local currency is New Taiwan Dollar (NT$). The current exchange rate is approximately NT$ 30 to US$ 1. For up to date exchange rates, please visit the currency website http://www.oanda.com/currency/converter/
110 volt 60Hz electrical supply and outlets with two flat parallel pin plugs, type A.
All major credit cards are accepted in most hotels, shops and restaurants.
Tipping is optional. It is usual, however, to tip for restaurant service and hotel porters. A 10% service charge is normal. A 5% tax is included in all purchases.
Bus, metro and taxis service can be chosen from in main cities. Bus service is provided from airports to the city center. High Speed Rail is so available for you to travel rapidly inland from the north to the south.
Travel Information
From Kaohsiung International Airport to The Ambassador Hotel Kaohsiung

By Metro: take the Red Line going north and get off at R9 (Central Park) then walk to the hotel in about 15 minutes.
By Taxi: a taxi from Kaohsiung International Airport takes about 30 minutes, price up to NT$ 300.
From Taoyuan International Airport to The Ambassador Hotel Kaohsiung

By Taiwan High Speed Rail (THSR): Follow the sign to the bus station, and then take a shuttle bus to Taoyuan high speed railway station. Tickets must be purchased at Ubus service counter beforehead. The ticket price is NT$ 30. The bus to THSR Taoyuan station takes about 20min. Then take the high-speed railway train to Zuoying Station.
From Zuoying High-speed rail station to The Ambassador Hotel Kaohsiung

By Metro

Take Red Route R16 (Zuoying) to R9 (Central Park) and then walk to the hotel in about 15min.
Take Red Route R16 (Zuoying) to R10 (Formosa Boulevard) and transit to Orange Route to O4 (City Council) and then walk to the hotel in about 10min.

By Taxi: a taxi from Zuoying station takes about 30 minutes and fee is approximately NT$ 250.
---
Tourist Attractions
Pier-2 Art Center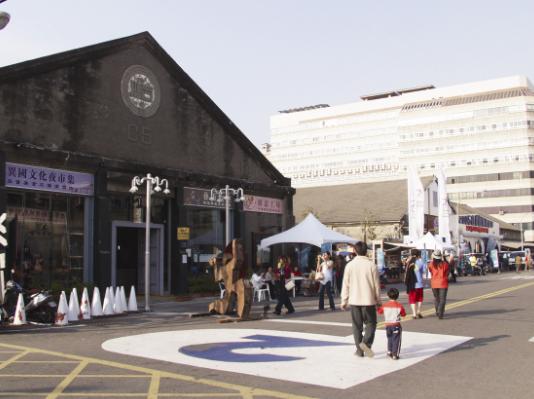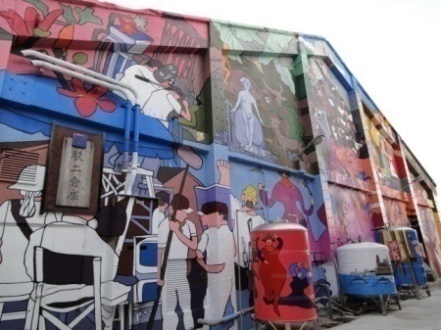 Introduction
"Pier-2" is located next to the Yencheng Tourist Wharf. The warehouses on the pier were built during the middle of the Japanese Colonial era. Converted out of these old warehouses, Pier-2 Art Center is dedicated to modern art exhibitions. An artistic and cultural space welcomes installations from the public. A number of art groups meet here and strive to develop the Kaohsiung artistic environment. The Moonlight Theater was built for a variety of artistic performances.
Information/Transportation
Opening Hour: MON-THU :10:00-18:00


FRI-SUN :10:00-20:00

Address: No.1, Dayong Rd., Yancheng Dist., Kaohsiung City 803, Taiwan
By MRT: Yanchengpu Station (Exit 1)
---
Love River Boat Tours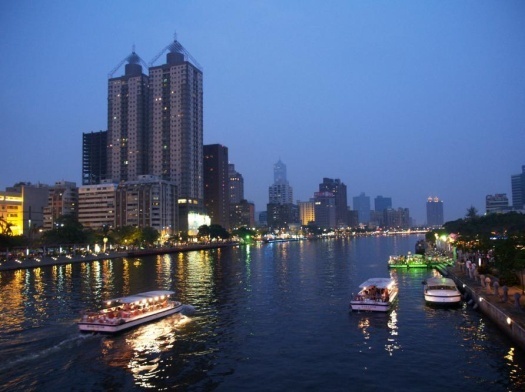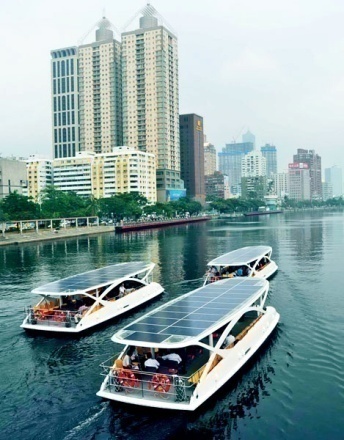 Introduction
To enjoy the full experience of the Love River, a boat tour has become a popular choice amongst visitors. In 2004, the Transportation Bureau introduced The Love Boat River Tours, which have become very popular. The "Love Boats", gracefully floating up and down the Love River are central to Kaohsiung's developing tourism and one of the best ways to see the city. There are three locations where the river boat tours can be picked up. Plan for an entire afternoon to take a "Love Boat" tour and enjoy a different perspective of Kaohsiung.
Information/Transportation
Location: Across from The Ambassador Hotel Kaohsiung
Ticket Price: NT$ 120
---
The True Love Harbor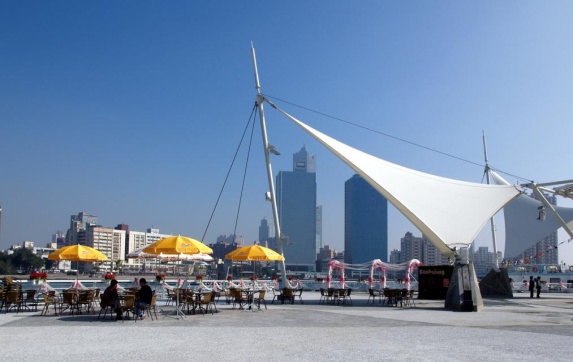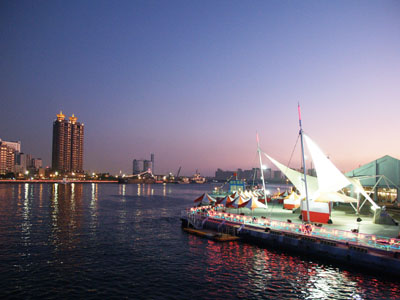 Introduction
After The Love River was restored, the environmental protection unit began monitoring the water quality to ensure its stability. Recently, a variety of fish have returned to the river. There are a number of walkways and riverside parks along The Love River. The mouth of the river is now the location for the trendiest place to enjoy the seaside and the sights of The True Love Harbor. Kaohsiung's skyline and shoreline can be seen its entirety from this location. At night the city lights are a beautiful sight to behold.
Information/Transportation
By MRT: Central Park Station → walk about 25 minutes
---
O5/R10 Formosa Boulevard (Dome Of Light)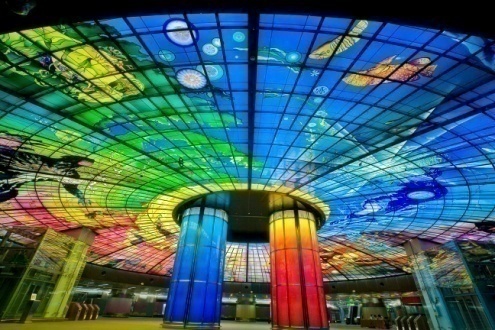 Introduction
Artist:Master Narcissus Quagliata Theme:Love and know ourselves Employing all the glass materials and production means fully, the artist designed the world's largest one-piece pubic artwork. With the motifs of water, soil, wind and fire, they represent birth, growth, glory, destruction and rebirth. Through this unique artwork, the affinity of the Kaohsiung people with the sea is fully embodied.
Information/Transportation
By MRT: Formosa Boulevard Station
---
Sanduo Department Store and Shopping Area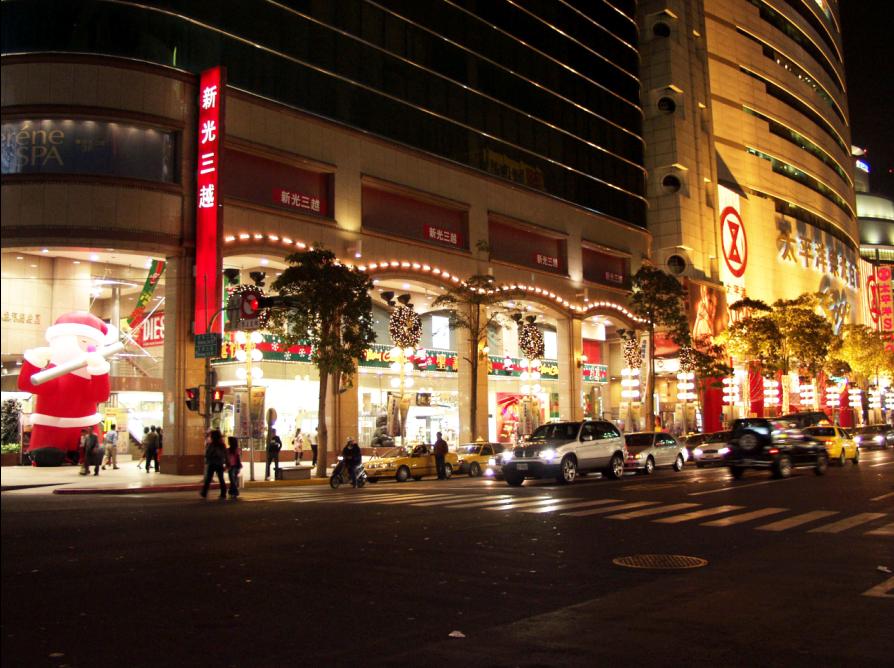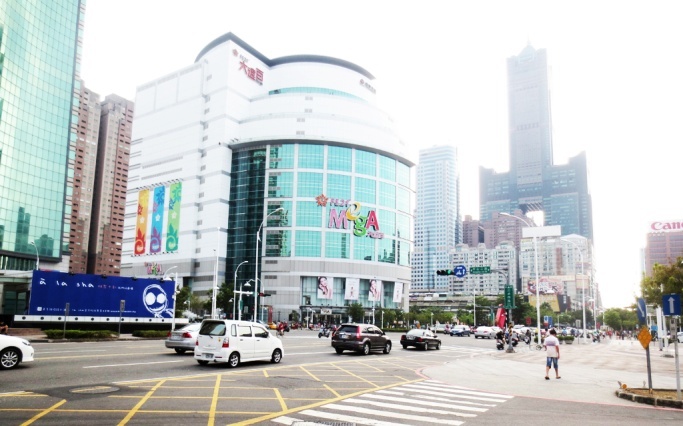 Introduction
Shinkong Mitsukoshi, Pacific Sogo and FE21' Department Stores are all located on Sanduo Road. These department stores have not only transformed the department store clientele in Kaohsiung, but have greatly contributed greatly to the growth of fashion and lifestyle boutiques in this area. These boutiques provide imports of brand name products at lower prices. Restaurants and entertainment venues are also attractions in this area.
Information/Transportation
FE21' Opening Hour: SUN-THU :11:00-22:00/FRI-SAT :11:00-22:30
ShinKong Mitsukoshi Opening Hour: SUN-SAT :11:00-22:00
Pacific Sogo Opening Hour: SUN-THU :11:00-21:30


FRI-SAT and the day before holiday: 11:00-22:00

By MRT: Sanduo Shopping District Station
---
Sizihwan Bay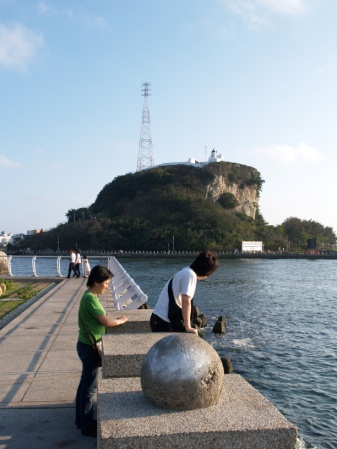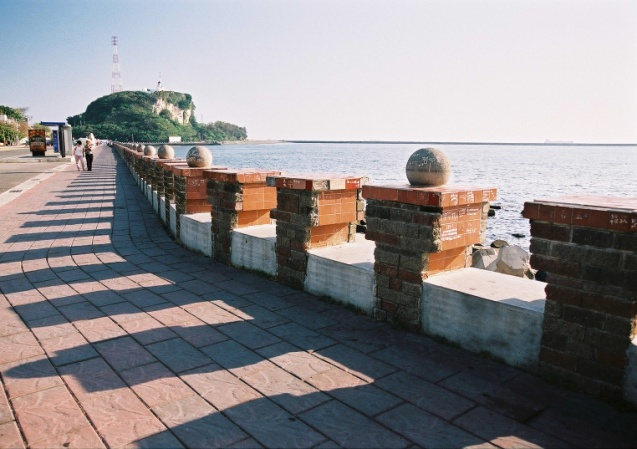 Introduction
Watching the sunset over Sizihwan Bay is one of the highlights of Kaohsiung. At dusk, people gather along the stone railing beside the sea, to get a good view of the sunset. As night falls, couples can be found in the gaps between the railings. These gaps in the railings are referred to as "Lovers' Caves" or "Carrot Pits", making Sizihwan Bay a tremendously romantic place to visit.
Information/Transportation
Location: At the end of Shaochuan Street turn right (Before Sun Yet-Sen University)
By MRT: Sizihwan Station
---
Guandi Temple(WuMiao)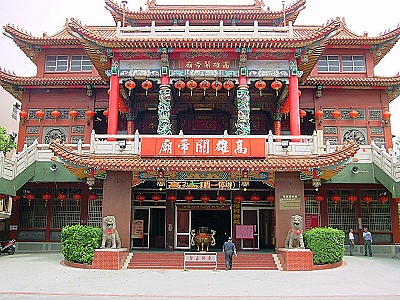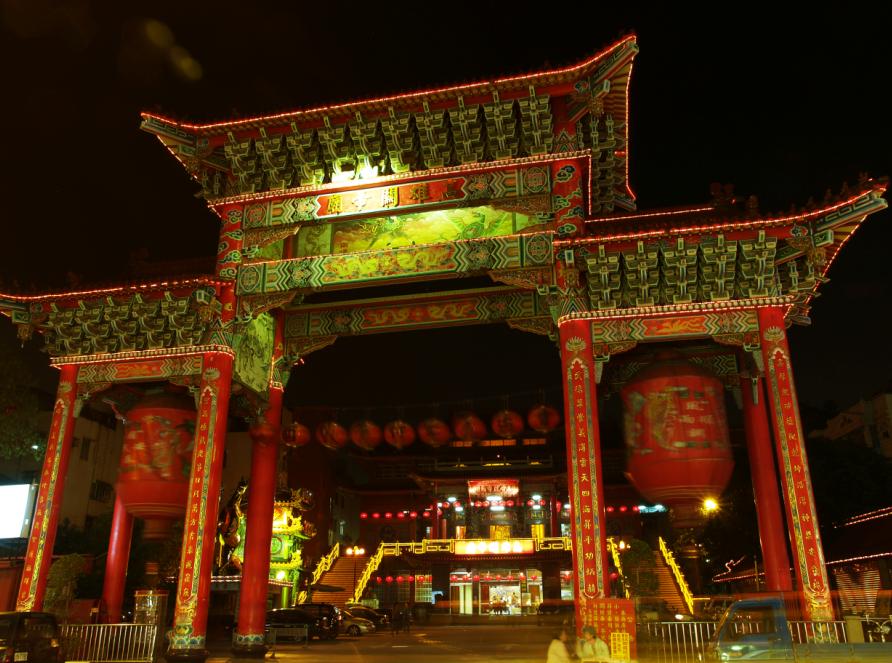 Introduction
Guandi Temple, being on Donzhao Mountain, was founded in 1950s; and it is famous as the same as Hsing Tan Kong Temple, Taipei. The statue - god Guandi is 36 feet high; the major feature of divinity is so strong; the location is so great and high; it is able to view the Kaohsiung area; and the environment is quiet and clear; and there is a green tunnel which is about 100 meters; it is the cyclists??favorite place.
Information/Transportation
Address: No.52, Wumiao Rd., Lingya Dist., Kaohsiung City
Opening Hour: SUN-SAT :05:00-23:00
By MRT: Wukuaicuo Station