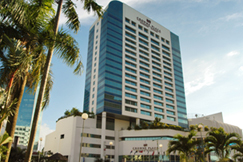 The conference will be held at the Crowne Plaza Hotel, Riverside Kuching which is located at the Kuching Waterfront right in the heart of the city's entertainment, dining, shopping and business district; and 20 minutes drive from the Kuching International Airport (KIA).
Flights to KIA
Flights to KIA (airport code KCH) are available several times a day from Kuala Lumpur, or Singapore.


How to get to the conference venue from KIA
Upon arrival at Kuching International Airport, you will find the Taxi Counter located outside the International arrival hall. Purchase a taxi coupon to the Conference Hotel (Crowne Plaza Riverside Hotel) at RM 17.50.
The queue of taxis is then located outside the airport building. A journey to the conference hotel normally takes 20 to 30 minutes depending on traffic condition.
Please take note all travellers from outside Sarawak are subjected to immigration clearance.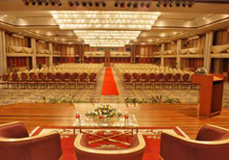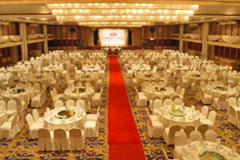 Sights to see around the conference venue
The hotel overlooks the historical Fort Margherita across the Sarawak River.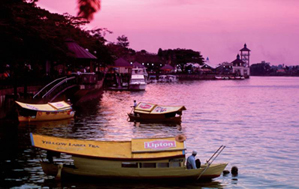 Catch a sampan ride at the Waterfront, and cross over to different spots across the river. In fact, these sampans are daily means of transport for villagers living across the river to commute to the city to work.
Shuttle services at RM10 nett per person one way are available from the hotel to the following destinations:
Sarawak Cultural Village
the beach (drop-off point at the Holiday Inn Resort Damai)
Both are located about 45km away and the journey takes between 30 to 45 minutes.