Venue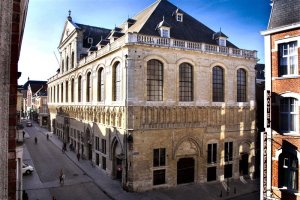 K.U.Leuven Universiteitshal,
Promotiezaal
Naamsestraat 22
3000 Leuven




The registration and the technical program will be in a large medieval building called the University Hall ('Universiteitshal' in Dutch). The University Hall is situated in the centre of the city (yellow house on this map). There are cafes, restaurants and shops within walking distance.

If you arrive by car, don't expect to find any nearby parking on the street. The closest underground car parks are Parking Heilig Hart at Naamsestraat 102c to be reached via the Naamsepoort and Parking Ladeuze at Ladeuzeplein 20 to be reached via Tiensepoort and Blijde-Inkomststraat. From these car parks it is a short 5 minute walk to the University Hall.