Eurocrypt 2000


Bruges (Brugge), Belgium, May 14-18, 2000
Travel information

Offcial Carrier Eurocrypt 2000
Sabena offers special discounts (up to 50%) for European and Intercontinental flights to Brussels between 9 and 22 May 2000. In order to make use of these discounts, print out the voucher (pdf or ps). All details can be found on the voucher.
Belgium...
...is indicated in red on the map of Europe below. [Eurocrypt'99 was held in Prague]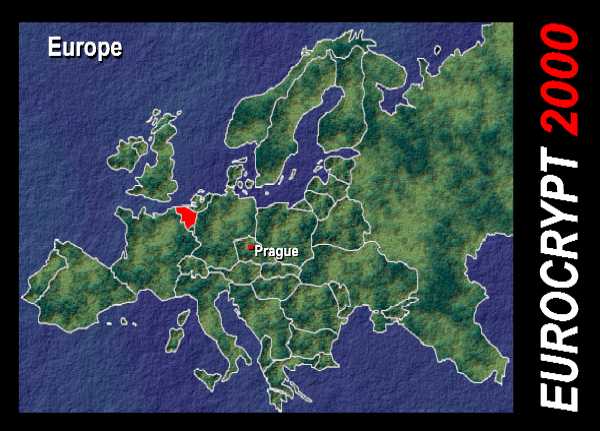 Visa and passport
A valid passport is required. A visa is not required for citizens of most nationalities (in particular: the European Union, Canada and the US). Please contact your local travel agency or embassy if you need further information.
Official letters of invitation will be sent by the Conference Chairman upon request. Please note that the organizing committee will not take any financial obligations for participants' conference related expenses in providing official invitation letters.
---
Currency
40,3399 BEF (Belgian Frank) = 1 EUR (Euro)
39,5 BEF = approx. 1 US$ (January 2000)
---
Voltage sockets, plugs
230 V, European norm: three-pole earthed plugs have two pins and a hole in the plug; sockets have two holes and one pin. Adapters are only available in higher category hotels and specialized shops.
---
Insurance
Travellers are recommended to take out a general travel insurance in their country of origin or permanent residence before travelling abroad.
---
Weather & Climate
Belgium has a moderate climate. Day temperatures normally are around 15-20°C in May. Occasional showers should be taken into account.
Check out the weather forecast for Brugge, which will be somewhat in between the one for Gent and the one for Oostende (although you never know with Belgian weather...).
More info on the Belgian climate.
---
How to get to Brugge
The best way to go from Brussels Airport to Brugge (Bruges) is by train. Take the train to Brussel Zuid (Bruxelles Midi), and change to the train to Oostende or Knokke over there. Get out in Brugge. The total trip takes about 1 1/2 hour. Trains leave every 15 minutes at the airport and every 30 minutes at Brussel Zuid. Price of a train ticket Brussels Airport - Bruges is 425 BEF (2nd class).
More info about the Belgian Railways, including detailed timetables, can be found at http://www.b-rail.be/.
Brugge lies about 90 km west of Brussels. By car, it takes about 1 hour to reach Brugge from Brussels.
Taxis are available but (very) expensive for such distances.
More information on how to reach Bruges can be found here.
A more detailed map of Belgium showing (amongst others) Brussels and Bruges...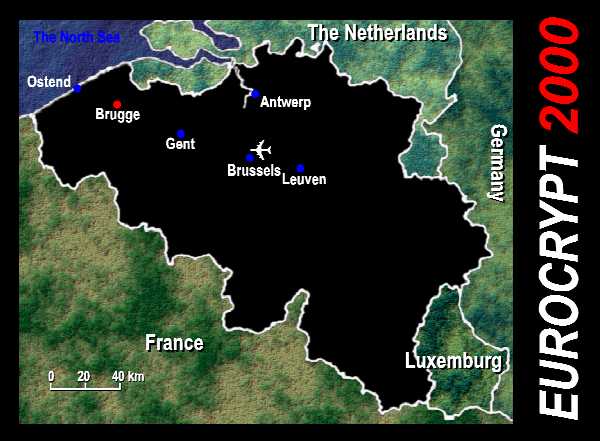 ---
Eurocrypt 2000 is organized by the members of the COSIC research group.

Copyright © 2000, Katholieke Universiteit Leuven, ESAT/COSIC
This page is maintained by Joris Claessens and Wim Moreau.
Last modified on February 21, 2000.