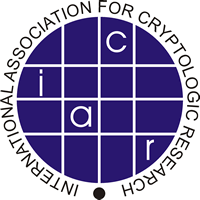 ASIACRYPT 2013
Announcements
---
 slides are now available online
Participants staying at Chancery Pavillion can use a cab to commute to the conference hotel according to the following schedule: 
Morning:- Chancery Pavillion to JWM: 8am
Evening:- JWM to Chancery Pavillion: 6pm
In case of social events in the evening, there will be cabs back to Chancery Pavillion, post the event. Contact the help desk  at JWM if you have further queries.
Help on arrival at Bangalore International Airport:
            Asiacrypt Help Desk : On 30 Nov 2013 and on 01 Dec 2013 (24 hours on both days), there will be a help desk at the airport. To identify this desk go to the Café Coffee Day on your right in the big hall just as you leave the customs area (but before leaving the terminal building) and look for the counter with  Asiacrypt 2013 banners. Staff at the Asiacrypt 2013 desk will help you pick up a taxi that will take you to your hotel.
            On your own : If you arrive on days other than Nov 30 or Dec 1, you should get a taxi on your own to get to your hotel. There are three official taxi operators at the airport: Meru Cabs, Mega Cabs and KSTDC cabs. All of them operate from a single taxi rank situated outside the terminal building. As you exit the terminal building, follow signs to "Airport taxi" to take one of these cabs. We advise you not to entertain cab rides from companies or drivers other than these companies.
Several of the Asiacrypt 2013 participants seem to have not yet receive their visas to come to India.
If you have not received yours, please contact us at asiacrypt2013@iacr.org with the following information:
Your full name as in passport :
Passport Number and Nationality:
Date when you sent your application for a conference visa:
Consulate your application was sent to:
Please include any correspondence you've had with the consulate:
If you have received your visa (congratulations and welcome!), please send us details of your itinerary (in particular, arrival date and time and flight number) so we can help you with local arrangements.
---
ASIACRYPT 2013 is the 19th Annual International Conference on the Theory and Application of Cryptology and Information Security. It will be held in Bangalore, India from Dec 1 to 5, 2013. The academic program covers all aspects of cryptology. The conference is sponsored by the International Association for Cryptologic Research (IACR).
This conference is jointly organized by Microsoft Research India, Indian Institute of Science, and Indian Institute of Technology Madras
Electronic versions of the proceedings, published by Springer, will be provided to all registered attendees at the conference. In addition, paper proceedings can be purchased through online registration.
Bangalore, also known as Bengaluru, is a cosmopolitan city with a large young working population, and popularly known as the Silicon Valley of India. Bangalore enjoys a relatively mild climate year round with temperature ranging from 16-28 degrees centigrade during the month of December. Bangalore's airport is among India's busiest and host to 10 domestic airlines and 21 international airlines connecting the city to many destinations across India and the rest of the world.  The conference hotel is located in the heart of the city and is close to many restaurants, pubs, and cafes with a broad choice of international cuisines.  Cubbon park is across the street from the hotel and is a nice green area for long walks.
Apart from several tourist attractions within the city, Bangalore area  offers lot of outdoor activities and is ideally located to explore southern India. South India has several well-known tourist destinations famous for ancient temples, classical arts and music, pristine beach resorts, and nature parks. Please refer to the Travel page for more detailed information.
Updates
---
- 21/10/2013: We received all the government approvals needed conference visa! Please see details on the Visa Information page.
- 4/10/2013: Conference Program is now up!
- 4/10/2013: Hotel Bookings are open. Participants are advised to book early.
- 10/9/2013: Registration server is now open, early registration till 10 Nov, 2013
Important Dates
---
Submission deadline: May 20, 2013
Notification of decision: August 15, 2013
Camera-ready version due: September 9, 2013
Early registration: November 10, 2013
Conference dates: December 1 to 5, 2013
Organizers
---

Conference Manager
---