Type: Mountaineering
Representative : BAEK UN CHEOL
Address : Ara 1-dong, Jeju-si, Jeju-do, [690-121], KOREA
Contact : TEL : +82-64-702-0203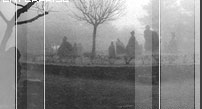 Literally, Trees and Stones Academy display trees and stones of Jeju. I opened this academy on August 10, 1971 with data I collected individually from the latter half of 1960s in whole parts of Jeju. After that, it took about 30 years to open this Trees and Stones Academy. There are many uncommon valuable trees and stones. Trees grow wild under 700 meters above the sea level of Mt. Halla. The timber's root of this Distylium racemosum was alive after the death of the tree for thousands of years, weak parts are rotten, and strong parts that remained are making excellent beauty of space. Among about one hundred of Distylium racemosum shape, 20 of them are specified as the 25th memorial of Jeju on April 14, 1972 because of their rareness and peculiarity and about 3000 pyŏng of land is protected by the provincial authorities based on Jeju notification on December 27, 1977. Then, to form the legend of Seolmundea-grandma and 500 sons descended from Youngsil in Halla Mountain,
1. Piling up the five hundreds of memorial towers.
2. Finding on rocks of sad expressions of five hundreds of sons and leaving photographs.
3. Making dough and clay doll for the soul of the five hundreds of sons.
With single theme, Tamla Mok-Seok-Won is working to form a Trinity with three aims. In addition, after the opening, it was my dream to found the Jeju Stone Museum by collecting numerable Jeju's living rocks, gather the valuable stone sources which is vanishing, and exhibit effectively the living rocks which has artistic conscience and, put it to educationally practical use. Just at the right time, since Sin Cheoljoo, the magistrate of North Jeju, permitted for the Mok Suk Won project, stone museum project was started. These days, expansion of Mok Suk Won is impossible, so it's maintaining the present state and donates Jeju living rocks, folk stones, and 12.000 of Minguryus, which were collected and kept for about 30 years without compensation. Moreover, North JeJu Gun reflects the maximum of plan for Mok Suk Won at one million pyŏng of #119 San Kyorae Li Jochun Eup and it concluded the convention on January 19, 1999 to hand over the memorable Jeju collective cultural park. So, Mok Suk Won is doing its best on basic works to have the design of cultural park and the right to manage for 20 years and make the worldwide ecology park.
January 1, 2001 Beak Woon-chul (Head of Mok Sok Won)
15 minutes from Jeju Airport